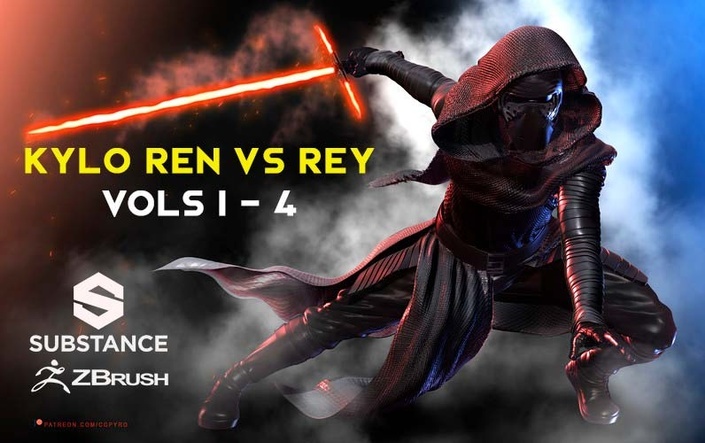 Kylo Ren vs Rey Vols 1 to 4 Package - Course 3D Character Creation in Zbrush + Substance Painter
Kylo Ren vs Rey Vols 1 to 4 Package - Course 3D Character Creation in Zbrush + Substance Painter creates the Suit and Helmet, Temperate Lightsaber, Texturing
Lo quiero/I want it
3D character creation in Zbrush Kylo Ren vs King Vol 1 to 4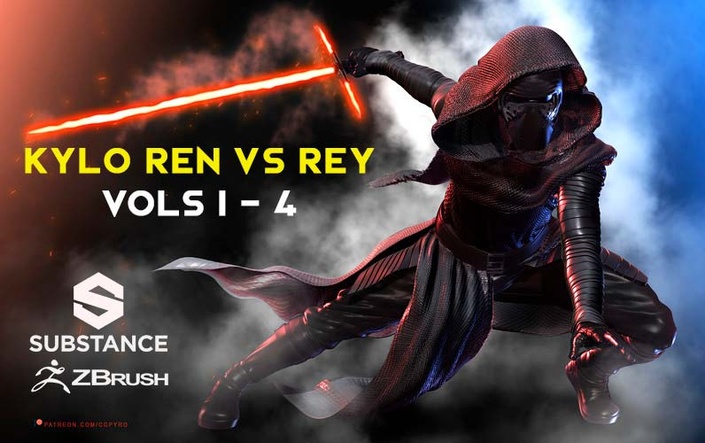 Organic 3D character modeling in Zbrush. Create your own Kylo Ren - Star Wars Fanart easily and with the right anatomy.
Do you like the world of cinema and video games? And if you are also an artist and want to learn how to make characters for the industry, then this course is for you. You will learn how to use simple shapes to bring them to a professional finish, learn how to extract UV maps and apply noise maps to improve the appearance of your characters.
What knowledge and tools are required?
To be able to watch this course you need to have basic knowledge of the program interface, this way you will understand the course information. In case you have no knowledge of the software, I recommend you to see the free Zbrush Beginner's Course. The course is held in the Zbrush software so it is important that you have the program installed on your computer. To finish you need a good enough pc to use the program (Usually no pc has problems running the software... At least not now).
Who should take this course?
If you are a beginner in the subject this course can be a very good guide for you, since it handles a quite useful workflow and explains the concepts in a clear way.
What will students get or be able to do after taking this course?
You will learn to model Kylo Ren using the Low Poly modeling technique, you will use intermediate tools from the Zbrush program to give an excellent finish to your pieces and you will understand the flow when working with different types of materials such as fabrics, leather, plastic and metal.

Description
In this course we will learn how to create costumes and helmets, as in this case, we have chosen the character Kylo Ren from Star Wars, as he fits our purpose perfectly.
The first thing we are going to do, is to know a very useful tool that the software Zbrush provides us, we talk about the bases of human anatomy for the creation of 3D characters (bodies), they are some organic modelings pre-established by the program, from which we can create our own 3D characters by means of modifications, modeling adjustments and details.
For our purposes we will use this human anatomy base, to save us the creation of the character, something that has already been taught in past courses.
If you came to this course directly, and you are not yet familiar with our human anatomy courses, I recommend you take a look at this excellent series of courses - Gold Pack: 3D Human Anatomy Character Creation With Zbrush (Pt 1 Pt2 and Pt3) - which will teach you how to create 3D characters in Zbrush from zero to 100% with their correct proportions and anatomy.
Without further ado, I invite you to sign up for this course, which I have developed with a lot of passion and dedication as I am passionate about digital sculpture and a super fan of Star Wars.
Sincerely, your instructor Yohiner from CG Makers
See you inside the course!
Autor/Author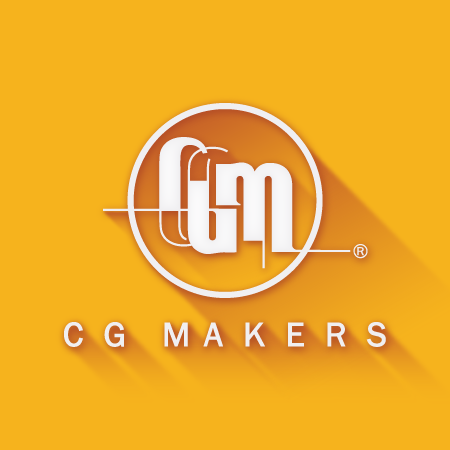 Hello, my name is Mauricio Garcia, Director of the CG Makers artists collective. My passion is to develop and direct high quality Digital Animation projects and to teach others how to achieve the same or better results. After writing and directing multiple video games, short films and co-producing with Korea, USA, Mexico and Colombia the 1st Latin American 3D and 4D animated feature film "Jungle Shuffle" and working on projects for brands such as Disney, Chevrolet, Suzuki, Nokia, Adobe... and more than 13 years in the industry, I decided to devote myself 100% to teaching others everything I learned, but focused on what I love most, video games! Our students now number more than 10,000 in more than 125 countries. What I'm really looking for is to give you the route and the tools to insert yourself into the global animation industry.
Subscribe to our Blog CG Makers, free courses by return mail
Follow us on Facebook to be aware of what our artists are doing
Cursos incluido con esta compra/Courses Included with Purchase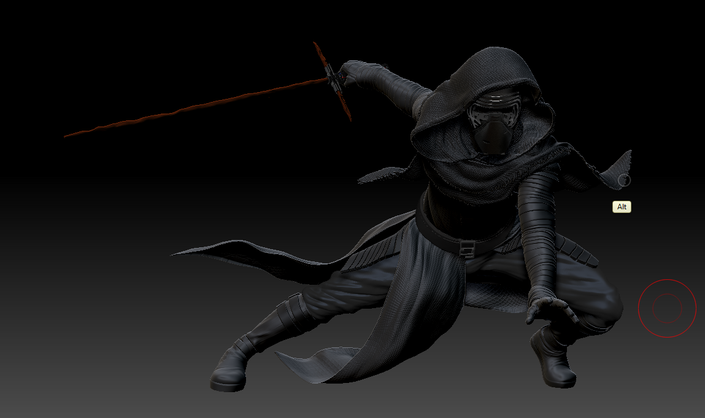 Kylo Ren Vs Rey Vol 1: Clothing modeling - 3D Character creation Zbrush
Create your own Kylo Ren Fanart the easy way!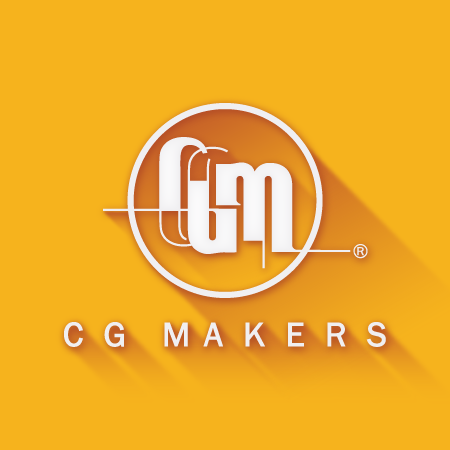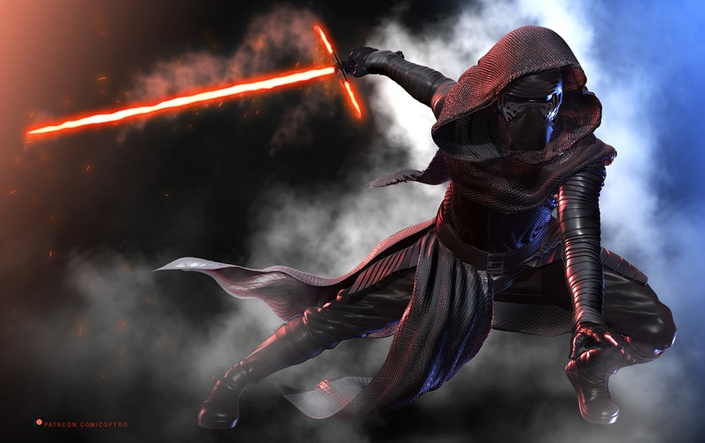 Kylo Ren Vs Rey Vol 2: Lightsaber and Accessories - 3D Character creation in Zbrush
Kylo Ren Vs Rey Vol 2: Lightsaber and Accessories - 3D Character. Through 30 classes you'll learn everything you need to model the Kylo Ren suite and helmet.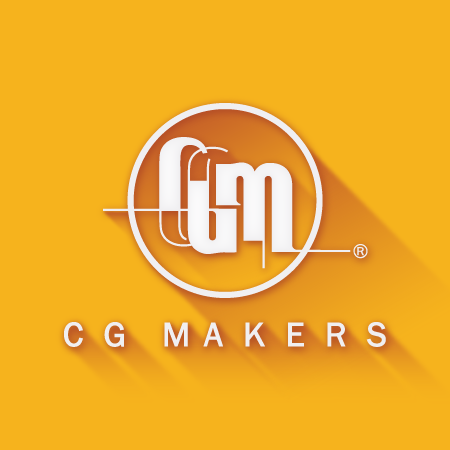 Precio original/Original Price: $18
¡Comencemos ahora! Let's start now!